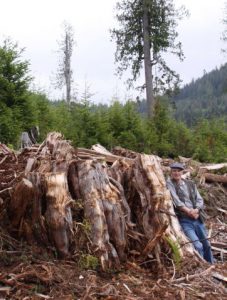 Many aspects of our degrading environment and unravelling global political scene worry me, I tilt my lance at two windmills in particular:
Human population, which has reached an alarming level and continues to grow. I speak on this subject and maintain a blog:  http://runaway-human-population.blogspot.ca/
Preserving Old Growth Forest. I write about this issue (see, for example, An Old-Growth Battlefield, British Columbia Magazine, pg. 66-71, Fall, 2016), and have lobbied the Forest Practices Board, the Ministry of Forestry, and the Canadian Standards Association to save these grand old trees.