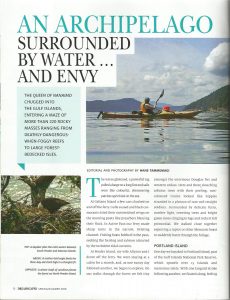 I've written hundreds of articles and am still cranking them out enthusiastically. Recipient of Travel Media Association Canada awards (2015, 2008, 2007, 2006) and London travel writing awards (2009, 2010). I'm currently travel columnist for Pearl magazine, columnist on First Nations for roadstories.ca, and correspondent for Indian Country Today, New York. Formerly, I wrote the monthly Eco-Watch column for Singapore Airlines in-flight magazine, and a monthly environment column for Vancouver Sun newspaper.
I write for magazines like Canadian Geographic, Westworld, Zoomer, Explore, Canadian Living, Northwest Travel, Canada's History Magazine, Indian Country Today, and for newspapers including the Globe and Mail, Vancouver Sun and Province, Buffalo News, Montreal Gazette, the Toronto Star and the National Post.
Here are links to recent articles:
The Amazon of Peru: Biodiversity Gone Wild, pg. 20-23, Ensemble Vacations, Fall 2015. (Cover story)
All Abuzz in Balboa Park; San Diego attraction has long tradition, Vancouver Sun, pg. J1-2, June 13, 2015.
An Archipelago Surrounded by Water … and Envy, Dreamscapes Magazine, pg. 12-14, Spring/Summer Issue, 2016.
Skwachàys Lodge Showcases Native Culture by Supporting Indigenous Artists, Indian Country Today Media Network, April 8, 2016.
Birds, bears and belugas on the edge of the Arctic. A look at Churchill, Manitoba, one of the top wild-life sites in the world. This article has appeared in three newspapers, one magazine and two internet travel sites.
To see links to more articles, and some great photos, please visit my FaceBook page: HansTammemagi